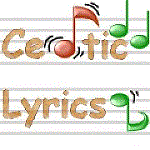 Smashing of the van (Glasgow version)
It was on the 12fth of May boys in 1921,
When the news ran through all Scotland that a daring deed was done,
It was by a band of rebels to release an Irishman,
They assembled in the high street where they smashed the prison van.

So here's to those boys who done it, their cause was staunch and true,
Each man who played his part that day was Irish through and through,
Side by side they stood there, revolvers in their hands,
Did that band of Irish rebels at the smashing of the van.

Those clever Glasgow polis were quickly on the scene,
They arrested everybody connected with Sinn Fein,
They arrested Father Magrory, an RC clergyman,
But they only showed their ignorance at the smashing of the van.

Now the trial it is over and the crown case badly failed,
Although they did their very best to send our boys to jail,
Defended by their councillors, McKay and Sandy Mann,
Sure the verdict was 'not guilty' at the smashing of the van.