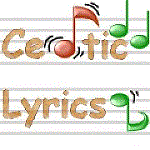 O'Donnell Of Tipperary
Place me before your scarlet ranks,
A thousand men and more,
And though the chain around me clanks,
I´ll keep the oath I swore.
Plant gun and bayonet to my teeth,
And let them pierce me through;
But while a heart´s within my breast
I´ll never speak for you!

You brought me here an honest man,
You shall not make me slave
No eye shall ever ´traitor´ scan
Upon O´Donnell´s grave.
The darkest wrong your power can do
Can alter not the vow,
Which says my children ne´er shall see
That brand upon my brow!

The true man´s words are borne aloft,
To shine among the stars;
We cherish them within our hearts
In spite of bolts and bars.
Mid all our sorrows and our wrongs,
Our deep and burning shame,
The brighter, purer for it all
Appears O´DONNELL´S name!