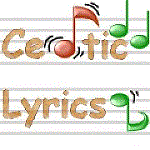 Níl Sé 'Na Lá
Níl aon phort dá chuala mé ar phíob
ó tháinig mé i méadaiocht linbh,
Nach raibh liom ar bharr mo bhéil isteach
i sliabh 's ag gabháil 'n bhaile.

Curfá:
Níl sé 'na lá nó 'na lá,
Níl sé 'na lá nó 'na mhaidin,
Níl sé 'na lá 's ní bheidh go fóill,
Na níl sé ach uair ó d'éirigh an ghealach.

Seo na mugaí, seo na jugaí,
seo an áit a bhfuil an leann,
'S mura bhfuil an t-airgead in do phócaí,
buail a' bóthar 's gabh 'n bhaile.

Éirigh do shuí a fhear a tí
's ná bíodh gruaim in do mhalaí,
Líon domsa cárta di
's gheobhaidh tú'n díolaíocht faoi mhaidin.

Chuir mé féin mo lámh in mó phóca
's tharraing mé anois mo chorrán garbh,
'S é dúirt sí liom suigh síos ag bord,
is gheobhaidh tú'n cárta go dtí'n galún.

Tá na caoirigh ag ithe'n fhéir,
is tá na huain ag ól an bhainne,
Tá mo bhean féin ar fud na tír',
is mithid domh éirí is gabháil 'na bhaile.

--//--

It's not yet day

This is a tune I've heard on the pipes since I was a baby,
Wasn't I singing it at the top of my voice on the mountain as I was going home.

Chorus:
It's not yet day,
It's not yet day or morning,
It's not yet day nor will it be soon,
It's not but an hour since the moon rose.

This is the mug, this is the jug, this is the place where the ale is,
And if you don't have money in your pocket, hit the road and go home.

Get up, Innkeeper, and don't be upset and frowning,
Pour me a quart of ale and you will get paid in the morning.

I put my hand in my pocket and now I pulled out my jagged sickle,
And he told me to sit at the table, and you'll get enough quarts to make a gallon.

The sheep are eating the grass, and the lambs are drinking the milk,
My wife is looking for me everywhere, and it's time to get up and go home.
YouTube
No content?
Suggest content!