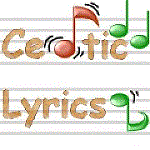 Tá mé i mo shuí
Tá mé 'mo shuí ó d´éirigh an ghealach aréir,
Ag cur teineadh síos gan scíth 's á fadú go géar,
Tá bunadh a´ tí 'na luí is tá mise liom féin,
Tá na coiligh ag glaoch 's tá 'n saol ina gcodladh ach mé.

Sheacht mh´anam déag, do bhéal, do mhalaí 's do ghrua,
Do shúil ghorm ghlé gheal fa´r thréig mé aiteas is suairc,
Le cumhaidh i do dhiaidh ní léir domh an bealach a shiúl,
Is a charaid mo chléibh, tá na sleibhte 'dul idir mé is tú.

Deireann lucht léinn gur cloíte an galar an grá,
Char admhaigh mé é go raibh sé 'ndhaiidh mo chroí 'stigh a chrá,
Ó aicíd ró-ghéar, faraor nár sheachnaigh mé í,
Chuir sí arraing 's céad go géar frid cheartlár mo chroí.

Casadh bean sí domh thíos ag Lios Bhéal an Áth´,
'S d´fhiafraigh mé díthe an scaoilfeadh glais ar bith grá,
'Sé duirt sí os íseal i mbriathra soineanta sámh´,
"Nuair a theann sí fan chroí, cha scaoiltear as é go brach."

--//--

I am awake since the moon arose last night
The fires have dwindled to greeshaigh red-bright
The rest of the household's asleep, but I weep on alone
The rooster is crowing, not knowing the cause of my moan.

The blessings of God on your brow and the red of your mouth
Your eyes blue and bright like the sky kissed by sun in the south
For love unrequited I'm blighted and driven astray
And the mountains now rear up between us to darken the way.

The sages maintain that love's pain is a strength-sapping plague
I do not deny that it aches like a colic or ague
There was no escape when it struck and I woke with a start
And a hundred and one piercing arrows shot straight through my heart.

Down Lisballina way I met a banshee with blue eyes
I begged and beseeched her love's leech from my poor heart to prise
She spoke soft and low, "It's a woe that will waste you away
When it pierces the heart it will smart until the crack of Doomsday."