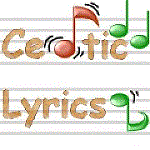 Wrap it Up
Now listen you people
Better take this down:
I'm the Bodhrán player
And I'm back in town.
It's me lays down the rhythm
For the diddely I dil dee
Ain't no Flashy Fiddlers
Any good without me!
I can do it on the Bodhrán,
I can do it on the Bones;
Don't need a fancy drum-kit like
The Rolling Stones.
I'm a raker, I'm a shaker,
I make that white top hum:
The man who puts the Iddery in the
Skiddery I dil dum!

Skiddery I dil dum!

Just set up the liquor,
Make sure there's enough,
Then clear the decks for action
Let me strut my stuff.

Hear me talkin'?
Let's go walkin'!

Now the fiddle's fine and dandy,
It's the voice of Irish folk;
And if you've gotta banjo handy,
He can make the music smoke.
Throw in a melodeon --
You've gotta have a box --
and you've the makings of a session
But it isn't one the rocks
Till the goat skin hero
Hits it with his little rhythm stick:
I'm the man supplies the heartbeat,
I'm the dude that makes it tick!

He's the diddley dee director,
He's the dude that makes it tick!

Hear me talkin'?
Let's go walkin'!

At the pub and at the party,
I'm the session's heart and soul;
Hey, it's me who puts the backbone
Into Irish rock 'n' roll.
You can keep your fiddle player,
Your banjo pickin' man,
But the man who minds the goatskin
Is the leader of the band.
When I hear the reels a rollin'
Then it's time for me to start;
I'm the star of syncopation,
I'm the statesman of the art.
Watch the dancers how they dig it,
They say who's the heavy dude?
He's no moron on the Bodhrán,
He's our Gino be goode!
So I'm giving you the message and
I've got it right perhaps:
The show is never over 'til the fat man raps!

You paying?
I'm staying.