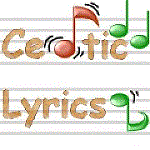 The Rebel's Sermon
My brothers all, who hear me now,
Give ear to what I say;
The words are solemn that I speak
On this my dying day:
For Ireland´s love, for England´s hate,
I swore a solemn vow,
And if I swore it once before
I swear it ten times now!

For Ireland! For Ireland
Upon this drop I stand;
For Ireland, for Ireland,
My own native land!

Thrice blacker be the face of death,
Thrice brighter be the sky!
And yet for such a cause as this,
I´m well content to die!
I never knew what ´twas to fear,
And still I do not know;
And for the wrongs that tore my heart
I strove to deal a blow.

You´ll follow! You´ll follow!
The path I went before,
Like brave men, to save, men
Their old island shore!

I did the duty of a man;
I care for life no more;
If death will bring the cause some good,
Its stroke I won't deplore.
If one more throb of stern resolve
It raise in any breast,
If one more pulse of bitter hate
´Gainst England´s robber crest

´Tis welcome! ´Tis welcome!
Right merrily to me;
Victorious and glorious
The last hour I see!

And now the word I´d leave behind
Is Vengeance! Vengeance still!
O´er every plain I´d ring it out,
On every lofty hill.
Who cares a straw for life and limb
Deserves not to be free;
Who thinks of caution or of fear
Will frighten liberty.

Still daring, uncaring,
For all the might of man,
There is no other way, my boys,
To carry out your plan!