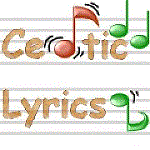 Rebel Heart
From rebel veins my life I drew,
In rebel arms I lay,
From rebel lips the lessons drew
That led me day by day.
And, rocked to rest on rebel breast
And nursed on rebel knee,
There woke and grew for weal or rue
A rebel heart in me.

A rebel heart, a rebel heart,
From taint of thralldom free,
God strengthen still through good or ill
The rebel heart in me.

My home was where the Moher heights
Rise rugged o´er the wave,
And nature´s sounds and nature´s sights
Forbade me live a slave.
The breakers on the crags that crashed
Loud thundered ´Liberty!´
And at the cry throbbed fast and high
The rebel heart in me.

I read my country´s chequered page;
I sang her deathless songs;
I wept her woes from age to age,
And burned to right her wrongs,
And when I saw to British law
She never bent the knee,
O prouder yet for Ireland beat
The rebel heart in me.

I found my brothers scattered wide
Still faithful to their own;
I found the tyrant in his pride
A knave upon a throne.
God ne´er designed a soulless hind
Should Lord of Ireland be
And strove in vain to break her chain
The rebel heart in me.

I´ve wandered east, I´ve wandered west,
Mid scenes and faces strange,
And passing years have in my breast
Worked many a wondrous change,
One hope of old still firm I hold
And cold in death I´ll be
E´er sinks or quails or shrinks or fails
The rebel heart in me!